three choirs walking & singing Trail-Blazing took place on saturday june 23rd, and there's a blog about the day's events on
the blog page
.
saturday june 23 2pm – 5pm
three choirs – manchester's all-female 'she choir', stockton's all-male 'infant hercules' and leeds' eclectic 'commoners choir', will walk three separate trails through newcastle city centre. they will sing at selected points along the way (full details below). their three songs, specially written by boff whalley in conjunction with the choirs, will reflect ideas of their 'northernness' – what brings us together, what separates us from the south, our history, culture, politics, attitudes, food, people and accents! when all three choirs arrive at the sage's outdoor performance space they will join their three songs together to create one unified piece of choral music; a nine-minute celebration called 'true north'.
see the blog page for news on how 'trail-blazing' is shaping up...
#GetNorth2018
details of walks and performances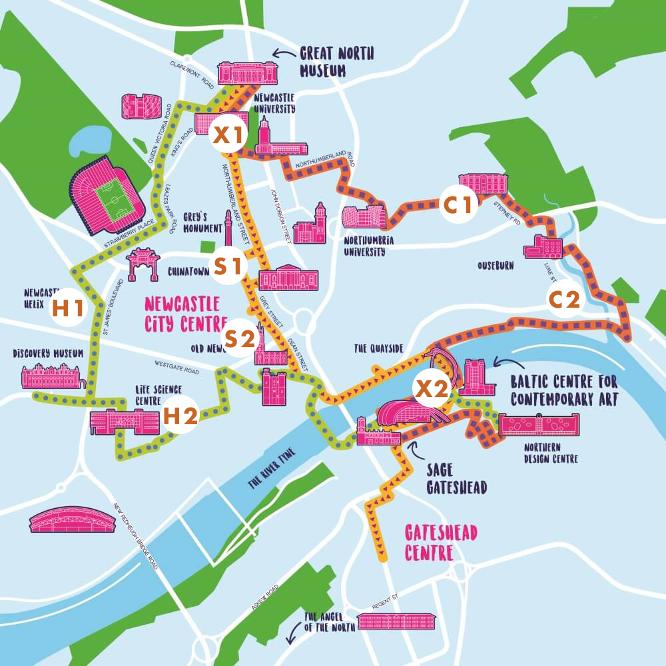 the three choirs will sing together at 2pm before walking their three separate trails through the city, stopping on the hour to sing; before meeting and singing together in a final performance at 5pm at the sage. here are the places you can catch the choirs as they make their way through the city:
all three choirs singing together
x1 - 2pm • northern stage, newcastle university. the starting point for all three choirs singing together
x2 - 5pm • performance square, the sage, gateshead. the final performance, all three choirs singing together.
infant hercules, walking on the innovation trail
h1 - 3pm • urban sciences building, newcastle helix
h2 - 4pm • times square (outside)
she choir, walking on the arts trail
s1 - 3pm • grey's monument, grainger street
s2 - 4pm • st nicholas cathedral (inside)
commoners choir, walking on the design trail
c1 - 3pm • the biscuit factory, stoddart street
c2 - 4pm • the toffee factory, walker road
Great Exhibition of the North receives funding from a variety of sources including public and private sector. Visit the website for details: www.GetNorth2018.com