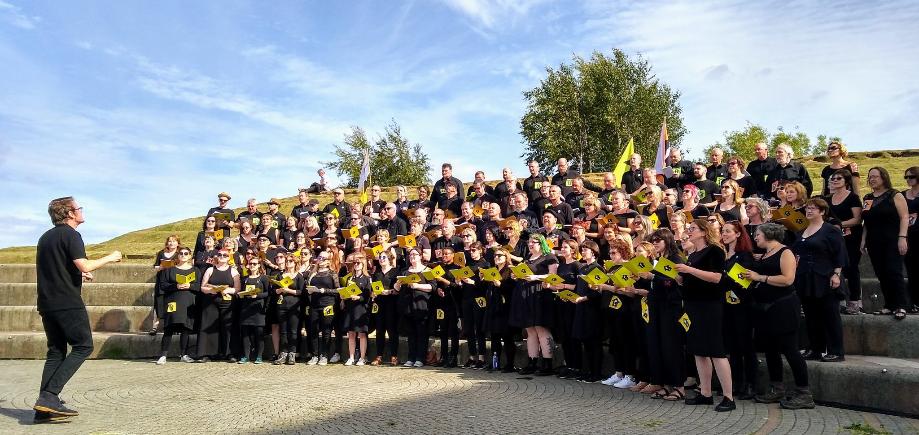 True North
After The Event, June 2018
There's a thing that writers get told – 'Never use the word indescribable'.
It's a good word though, sometimes. When a story can't be told in terms of what it looked like or felt like or sounded like, when a story is all those things as well as a mixed bag of spirit and emotion and whatever other ingredients get chucked into the soup.
So I was part of a six-month long project that grew from an idea (three choirs, singing about the North) to a mad series of performances, and that culmination of all this gathering of choirs and Northernness – at the Gateshead Sage on a glorious Saturday afternoon – was as close to indescribable as I can get. It basically felt like getting all my senses battered at once, a big emotional tug at all the bits of me that can feel stuff. Will that do as a description? Senses battered, emotional tug? There, it's not indescribable then.
Six months ago Josh Sutton, Jane Morland and me were convincing the organisers of The Great Exhibition of the North that this unholy alliance of three city choirs would be big, grand and special. We didn't have any music and we didn't yet have the consent of the choirs; we were winging it with bravado and hope. I'd done this kind of thing before with Dan Bye and Sarah Punshon, singing with scratch choirs at Manchester Museum and outside Somerset House in London. This one was a bit closer to my heart, since it was loaded with big emotional triggers – singing about the North and what it meant without ending up with something cloying and cliched, an answer to years of 'Northern Powerhouse' lies and centuries of discrimination and inequality. My own personal dig at Thatcher's legacy (as Elvis Costello put it, 'tramping the dirt down'). A chance to sing about childhood and history and landscape.
Until eventually 120 of us stood facing the city, watched over by the huge glass armadillo of The Sage, three choirs who sound utterly unlike each other, united to make a single glorious noise. A big and beautiful and bellowed noise that roared and soared across the Tyne. It worked because we all meant it. Because we dearly wanted to celebrate what defined us, what makes the North. What makes us Northerners. (Isn't that so often an excuse for parochial in-bred nonsense? I remember the Tour de France coming to Yorkshire and the place being plastered with posters showing cloth-capped cyclists exclaiming 'Ee Bah Gum'. Aye lad, we're reyt good at stereotyping ourselves, tha knows). But Northernness, and trying to understand it, is essential, since this country's political and cultural divide is getting worse. In terms of regional economic division, Britain now boasts the second largest north/south divide in Europe, witha 25% income gap between the richest and poorest regions of Britain.
The comical fabrication of the 'Northern Powerhouse' has itself become a source of division – as if we're caricatures in an old edition of The Beano , doffing our flat caps to Lord Snooty and his Pals. So bring on Dennis the Menace, Minnie the Minx and the rest of 'em, singing at the tops of their voices around the Newcastle city streets, walking the arts trails that thread down towards the Tyne and across the bridge to Gateshead. Manchester's She Choir arrived at the river after singing in the gothic gorgeousness of St Nicholas Cathedral, Stockton's Infant Hercules turned up after drowning out the tannoy at the train station (and singing to a bemused local MP) and Commoners Choir arrived after a sing-song in a biscuit factory that had been turned into an art gallery. We gave out leaflets and badges, carried our flags, and left our big noisy footprints along the way.
The three choirs had met each other for the first time only a few hours earlier, up at Northern Stage, piling off our charabancs and looking for all the world like we were all on day-trips to the seaside. Up at The Sage, this amalgamation of three disparate choirs fitted together like a wonky jigsaw, full of the sound and joy and fury of a gang on a mission to sing down the powers-that-be and sing up the ordinary folk. The song 'True North', pieced together from hundreds of scraps of ideas that all three choirs' members threw into the mix, is an homage to those ordinary folk whose lives tell the history of the North, who are part of its story (and our story, too).
The song is also an anthem for the Northern countryside, its hills and valleys, limestone and grit. The nature that surrounds and defines us. Each choir sang its own part of the song, backed by the rest, sharing around our differences and working out where the similarities are. And the sheer size of the noise up there above the river – I don't mean noise that's measured in decibels, but noise that spans octaves and dynamics, from She Choir's glorious soprano fanfares to Infant Hercules' bass boom – was so much more than the sum of its parts. Not indescribable, but possibly incomparable.
Maybe that's just me, though, standing in front of the choirs waving my arms about and trying to stop thinking of the 8-minute piece as a mathematical puzzle, trying to stop concentrating on what comes next and who sings what and where does the bass come in, trying to stop thinking for a few moments so I can experience the moment. Let go. Listen. Feel it.
Our involvement in the Great Exhibition of the North began in earnest several months ago at the launch event when we discovered that a major partner and sponsor would be BAE Systems. I won't re-hash the story here. We pulled out, spent a week feeling cheated out of a project we'd been really looking forward to, and then jumped back in again when BAE gave in to the pressure and ran away, red-faced. The commissioners and organisers who helped set up our project were wonderful and supportive throughout, even when we were being righteously bolshy and awkward. And the dozens of volunteers on the day who chaperoned the three choirs around Newcastle were just brilliant. The final, long, held note that finished 'True North' on the tiered outside stage overlooking the city was a big, loud cry of all sorts of describable emotions: relief, joy, celebration, togetherness and fun.
And when it was all over, and we'd waited around to cart mic stands back to the bus and joked with the BBC2 camera crew that our next project would be "a similar idea, but about the South" (I had to explain I was joking), after we'd said our goodbyes to the volunteers and organisers, we headed off to the nearest pub. Most of the three choirs were already there, sitting outside in the courtyard of The Central, a tiny old one-room bar beside a busy dual carriageway. And there, with ten minutes to go before we all had to pile back to our buses and head off home, we chucked out one last, big rendition of 'True North', this time as a skywards holler, glasses raised, everyone smiling. And OK, I'll admit – that last version, all of us thrown together and singing not for an audience but for the joy of sharing something special with each other – that was simply indescribable.
Boff Whalley June 2018
(Apologies to whoever took the photograph – i can't find where i got it from)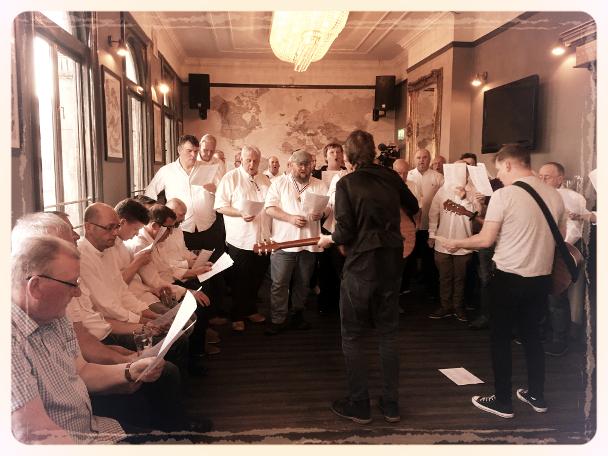 THREE CHOIRS IN MAY 2018
i'm standing in a small, high-ceilinged room above a pub with 35 huge men in white shirts. there is no air in the room, it's been sucked out by the collective banter that buzzes between the men, who seem to be all clutching pint glasses. i'm standing in front of them with an acoustic guitar and a sheet of words. i count them in and the decibel force flattens my face and threatens to propel me out through a window into the stockton street outside. this is infant hercules.
i'm standing in another room, a strip-lit room above a methodist chapel with 35 women who look like some crazy-coloured renegade gang, whispering and nattering, bright and attentive. i'm checking musical notes on a phone app that keeps asking me if i'd like to pay for the professional version. when the gang start to sing their voices knit perfectly, walking up the octaves to find notes that are too high for the human voice to hear. this is the sound you hear when you ascend to heaven in the hollywood version of your life. this is she choir.
i'm standing in another room, a lecture theatre with the chairs pushed back to form a large open space filled with 40 laughing people dressed in black. it's a party, surely, a teetotal knees-up that looks and sounds like i imagine a dadaist cabaret might have. i'm standing in the middle of the room as the glorious madness swirls around me, threateneing never to pause long enough for me to bring some order with a count of 1,2,3,4. this is commoners choir.
three choirs in three cities in one week, all of us learning one piece of music for the great exhibition of the north. the music is a single 9-minute-long sweep around the north of england, with great booming voices listing mountain tops, markets and castles while soft high voices sing a litany of inventors, radicals and pioneers. or something like that. the three choirs are learning their parts separately, so in these rehearsals we're having to fill in some harmonic spaces in our imagination. singing by the seat of our pants.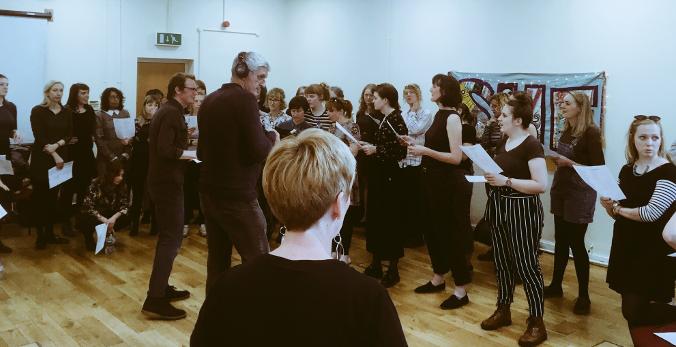 my position in these rooms, facing all these voices, is a privileged one. i ought to be scared stiff, not only of the fear of it not working but of the weight of expectation as each big bunch of choiristas looks at me for clues. where do we go up on that line? how do we pronounce that word? what's my starting note on the bridge?strangely, i'm not nervous. probably because i can see how much everyone wants this to work, and how much effort they're putting in to make it a success. it's funny though, having to approach each choir very differently, aware that all choirs are their own eclectic bag of habits and practises.
these three choirs are particularly good at being welcoming, of not being intimidating. i love choirs that invite anybody and give them space to hide, to join in at their own pace, to ease into the social group without feeling judged on their singing. that's why telly programmes like 'the voice' are so damningly awful – singing as a gladiatorial sport, where experts sit with their back to you and where your singing is reduced to how well you can copy the latest acrobatic r'n'b warbling. these are shows where some of the greatest singers – john lydon, patti smith, ian dury, joni mitchell, louis armstrong, bob dylan – wouldn't get past the first auditions. the beauty of a choir is the way wildly different types of voice can knit together to make a unified sound made up of all the inconsistencies and variations. the gaps get filled in. breaths and rasps and flats and sharps meld into a big, beautiful noise.
you know what, it's like punk – before 1977 we thought that being in a band meant practising your guitar in your bedroom for five years until you could master a guitar solo from any given ac/dc album. then punk came along and gave us permission to get on stage with little more than ideas and passion and a desire to communicate. infant hercules were formed when leader mike mcgrother rounded up a bunch of blokes made redundant from stockton's steelworks, men who'd never sung in their lives, and he coaxed them into having a go by offering them a free pint. the choir has given these unikely lads permission to make something creative and wonderful together. and in these three rooms this past week, the trail-blazing concept has begun to take shape in the voices of all these people, and from where i'm standing you can feel the joy and the emotion brewing, building up into something oh so much greater than the sum of its parts. before this week there'd been months of planning and talking, making arrangements, site visits to newcastle, workshops with each of the choirs to gather ideas and opinions, long days and nights in a stone-floor cellar with headphones and scribbled-on scraps of paper, trying to distill everything into song form. it was all so abstract until this week, until the three choirs stood there with lyric sheets and dived in.
now i can't wait for it all to happen. we've got the bbc following us around making a documentary of this whole process and we've now got a definite plan for the day. the day when, for the first time, the three choirs will meet and sing this hymn to northernness together. whatever happens then, it's already been a privilege to meet and work with these three wildly different choirs, already been worth it to compare chippy dinners in each city (manchester wins on account of having holland pies. and i haven't been brave enough to try a meatless stockton parmo yet). there'll be another visit to each of these three rooms in a few weeks, to dot some i's and cross some t's and alter the odd clashing note. then this whole wayward gathering of ideas and hope and community will come together on a saturday in june, these three beautifully mis-matched choirs attempting to do something remarkable together. it'll work, i know it.
boff whalley